French Very Strawberry Jam
Picnic
> French Very Strawberry Jam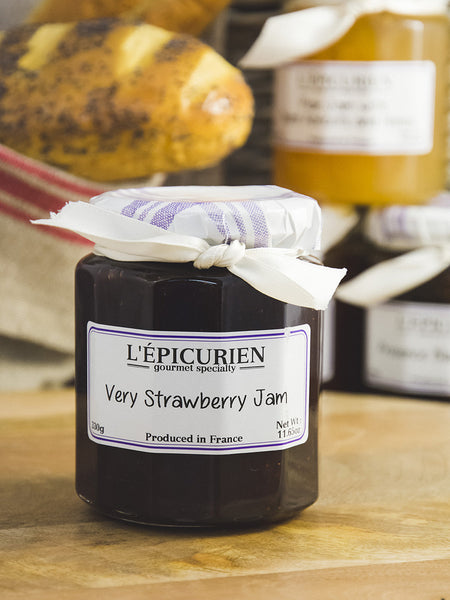 French Very Strawberry Jam
$16.00
From master jam maker Bernard Le Gulvout, we are pleased to present a magnificent collection of his very best jams.  Mssr. Le Gulvout is located in the Langedoc Roussillon region of France and is an "artisan du goût" - an artisan of taste, and his family-owned company uses only the finest and freshest ingredients to produce the most flavorful fruit and flower spreads.
There are more than 30 species of strawberries, but the two main ones are the wild strawberry (small and very tasty) and the cultivated strawberry (bigger and fleshier). Wild strawberries, the jewel-like, intensely-flavored fruit of the wild strawberry plant, have been foraged since antiquity. Their incredible flavor profile however, will not be tamed.  It is so special and rare because it is wild and it's intense flavor refuses to be mass-produced.  For Bernard's very special, Very Strawberry Jam, he has selected the cultivated Sanga Sangana strawberry variety as his base fruit and has further enhanced the taste of his recipe by adding rare wild strawberries with their subtle perfumes.  A magnificent jam that will remind you of how delicious strawberries can be.
This lovely jam that will be a delicious addition on crêpes, waffles, scones and toast. A magnificent topping for ice cream or a perfect addition to yogurt, fresh cheeses or cottage cheese.
---
11.65 ounces. 
May we also recommend…