Compagnie de Provence Karité Shea Butter Liquid Marseille Soap
Apothecary
> Compagnie de Provence Karité Shea Butter Liquid Marseille Soap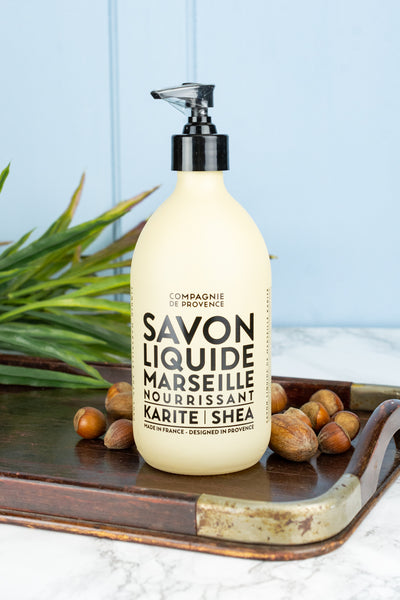 Compagnie de Provence Karité Shea Butter Liquid Marseille Soap
$34.00
French law requires that any soap called "Marseille" be made from a minimum of 72% vegetable oil. This premium Marseille liquid soap works so well, and looks so fantastic that it's going to be your new favorite soap - just like it is ours! The lovely lacquered glass bottle has a clean, bold design that brings its style to any sink.
Still made in cauldrons according to longtime tradition, this legendary Marseille soap is made with vegetable oils, natural glycerine and is enriched with nourishing Shea Butter (Karité). Using only a small amount of liquid soap will create a lightweight and creamy foam that gently cleans skin without drying it out. Biodegradable, it's guaranteed free of artificial coloring and animal fats. It intoxicating and soothing fragrance is created in Grasse, France with delicate notes of white flowers over a sweet musk scent.
---
16.7 fluid ounces. Bottle measures 7" tall x 3.5" wide.
Learn More About Shea Butter
Pressed from shea nuts from Western and Central Africa, shea butter contains vitamins A, D, E and F, which give it powerful skin regenerating and repairing properties. It is an exceptionally nourishing ingredient that cares for even the most sensitive skin through four targeted actions: soothing, protecting, nourishing and improving suppleness.
May we also recommend…